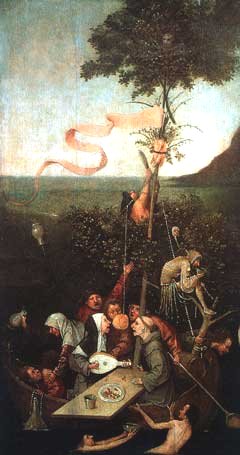 Psychosis Resources and Game Sessions
Psychosis is a very strange and very twisty game which focuses on player discovery of the plot and uses only Tarot cards for props. While unavailable for some time, both Ship of Fools and Solitary Confinement can be purchased from DriveThruRPG.

Below are the additional resources originally hosted on the long-gone Chameleon-Eclectic web site for free download. They are provided here only because I know of no other source (official or otherwise) where they can be found.
Warning: Undefined variable $show in /home/erskin/www/erskin/psychosis/index.php on line 23


There are (to my knowledge) only three modules ever released. Ship of Fools (printed as a book), Solitary Confinement (released as a PDF on CD), and the mini-module The Gordian Knot (PDF available below).
The only information safe for potential players to read. It's not much, but then again, that's sort of the point.


Information for the players of the session of Ship of Fools I almost started in March 2000. I currently need two players to restart this one. It is also the first use of my custom hacked PEW (Psychosis Engine for the Web). This will contain spoilers for anyone not in this game.


A web-sized version of the cover art I created for Psychosis game invitations. (At least it doesn't contain spoilers! ;)


NOTE:The follwing materials contain spoilers! Unless you are running a session, the information in these resources may ruin part or all of the game for you!
Ship of Fools Guide Action Card (~1.2M)

A PDF of the Guide's Action Card for Ship of Fools. (Just like the tear out page in the back of the book.) Useful if you want to keep the original card, or plan to run more than one Ship of Fools game.



The Gordian Knot Psychosis Module (~206k)

A small, but complete, Psychosis module. There are some minor errors and unclear parts. If you plan on running a session of this module, you might want to email me about it.


The black and white Tarot images on these pages are from David's Tarot which is Copyright © David Chastain and used with permission. David is also wisely reserving all rights, but I'd bet he'd be happy to discuss whatever ideas you have.
Psychosis is a trademark of (now defunct) Chameleon Eclectic Entertainment, Inc.

Return to Psychosis Game Resources
Erskin L. Cherry : erskin@eldritch.org


Warning: Undefined variable $countname in /home/erskin/www/erskin/psychosis/resources/psychosis_footer.inc on line 29

Deprecated: escapeshellcmd(): Passing null to parameter #1 ($command) of type string is deprecated in /home/erskin/www/erskin/psychosis/resources/psychosis_footer.inc on line 29
This file was last modified on February 07 2021 14:11:38.